Embodied Wisdom and Compassion
Insight Meditation and Qigong Retreat

with Subhana Barzaghi and Shirsha Marie
at Sangsurya Retreat Centre, Byron Bay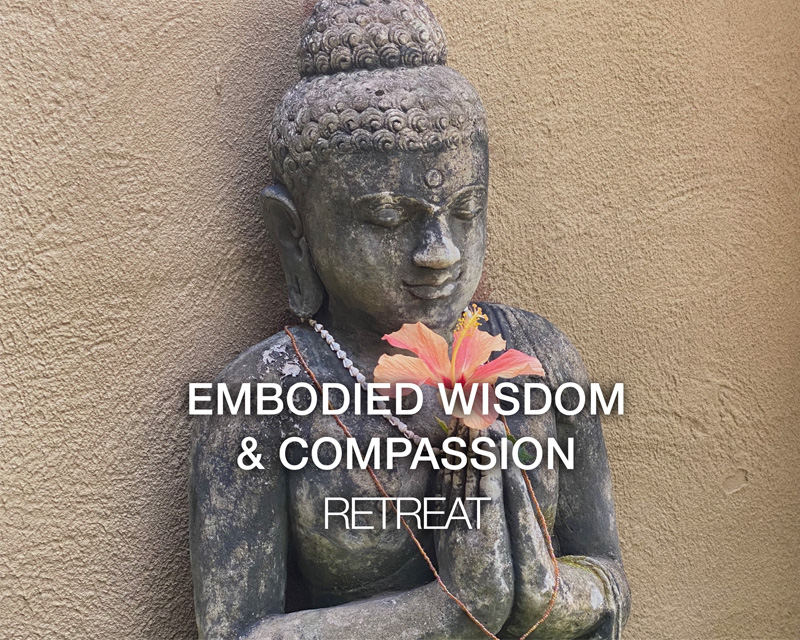 This is a 6 night silent meditation retreat of somatic mindfulness and energy cultivation practices which teach how to anchor awareness in the present moment, improve health and well-being, and support us to meet life's challenges with more energy and greater ease.
You'll learn authentic meditation techniques and real life skills for finding the inner peace and harmony which is your natural birthright.
Subhana is a senior Insight Meditation teacher and Zen Roshi, and Shirsha is a senior Tai Chi and Qigong Teacher and also teaches Insight Meditation. They are Somatic Psychotherapists and each have decades of experience teaching personal development and meditation.
In order to love, you have to be here,
And in order to be here, you have to
Bring your mind home to your body

Thich Nhat Hanh
Qigong is an ancient movement practice that stems from China and the nature-based philosophy of Taoism and includes the wisdom of Buddhist meditation practices. Known as a mindfulness in movement, its traditional self-healing exercises and meditative techniques deepen awareness and enliven the body, heart and mind.
Insight meditation practice explores the whole mind body unity with curiosity and mindfulness. The Buddha claimed that, 'Within this fathom long body lies the path to wholeness and awakening.'
As an ancient treasure map the body is a crucible for inner transformation. With mindful, embodied, compassionate presence we can untangle and release those knots of tension and contracted identity and find replenishment, grounding and insight.  For life to flourish each one of us must return again and again to the ground and refuge of our own wakeful presence and aliveness.
The Retreat schedule includes: sitting & walking meditation periods, daily meditation instructions, open inquiry sessions, Dharma talks and two daily Qigong classes. This Retreat is suitable for beginners and experienced meditators.
Your task is not to seek for love,
but merely to seek and find
all the barriers within yourself
that you have built against it,
and embrace them.

Mevlana Jalaluddin Rumi
Embodied Wisdom and Compassion Retreats at Sangsurya, Byron Bay
Student Testimonials
hover over the text to pause slider
Io, Lawyer
Hapkido excites me because, on a practical level, it is a very efficient and precise martial art that conditions the body to be more vital and the mind to be more focused. What also impresses me is that the way in which the art is taught is a profound approach to knowledge and learning - we are constantly encouraged to engage on deeper levels and to cultivate an insightful mind. I love the respectful and joyous relationships with training partners that are emerging in the non-competitive environment.
Io, Lawyer
Dawn, Retired Nurse
Qigong is absorbing. It enables me to develop stillness and calm in my body. I had suffered from poor posture and not feeling stable and connected through my body. I had tried other Qigong teachers but found that often the methods would oppose my body in a manner which was aggressive, forcing my body into the forms and positions. With Shirsha I have been helped to work with my own body and its particular needs with patience and acceptance; to improve my stance and posture and feel balanced; to become truly relaxed with my strength and comfortable in my own body. After the classes these benefits do not stop – I am able to tap into the source of my body's wisdom and take this skill into my daily life.
Dawn, Retired Nurse
Monique,  Theatre coach and French tutor
"Shisha conducts her Qigong classes with so much patience, care and gentleness that I always feel empowered and guided by her in deeply feeling my energy and knowing my body better. Her mastery and clarity in turn also help me to tap into a wonderful inner flow, which has proven overtime to be extremely healing and regenerating for me."
Monique,  Theatre coach and French tutor
Linda, Business Owner
Training Hapkido with Shirsha has changed my life. I feel stronger, more resilient both mentally and physically. I'm calmer and get less injuries than ever before. I have always lived with pain in my neck and back from a young age, caused by various injuries throughout my life, this has been reduced substantially since starting this form of martial arts. Warning: Once you experience the health benefits of this school, you WILL become addicted. Not to mention the students are a fantastic bunch of people."
Linda, Business Owner
Robert, Retired Disability Support Worker
The mixed Qigong and Tai Chi class is a focal point of my week as a chance to reset energetically. The practice has enhanced my balance, attitude and posture. Annual health check revealed that I have recovered 6 mm in height. It has helped me reconnect with the quality of awareness that is found in meditation.
Robert, Retired Disability Support Worker
Paul, Organic Farming Teacher
I am most grateful for the commitment and compassion of our Tai Chi teacher Shirsha Marie. For 10 years now I have been practicing Tai Chi at the Centre here in Byron Bay and have been able to free my body from back and joint pain. Tai Chi has helped me to move to a deeper and more satisfying level of meditation. There are so many benefits for mind body and spirit from this ancient art.
Paul, Organic Farming Teacher