Shirsha Marie
heart mind centre
Tai Chi • Qigong • Body Psychotherapy • Tao Spirit

•
Training & Qualifications
Painting
Bachelor of Visual Arts: BA. (S.C.A.)
Health & Martial Arts
Taiji & Qigong: Senior Instructor of Yang Style
Hapkido: 4th Degree Blackbelt (A.H.A.)
Hapkiyusul: 3rd Degree Black Belt (H.Y.S.K.)
Wu Shu: 2nd Degree Blackbelt (W.T.M.K.F.A.)
Soo Bahk Do: 1st Degree Blackbelt (K.S.B.D.A.)
Body Psychotherapy
Integrated Somatic Psychotherapy: Diploma (I.B.P.)
Hi, I'm Shirsha Marie.
Welcome to Heart Mind Centre.
I founded Heart Mind Centre in downtown Byron Bay in 1986. At that time I established the Centre as Byron Bay Martial Arts and enjoyed 30 years of teaching both soft and strong martial art styles to a great many dedicated students.
I now teach the internal martial art of Tai Chi, the healing exercise of Qigong, and my new warrior exercise art – Tao Spirit. I also give Body Psychotherapy sessions and with this inclusive approach my work offers a well-balanced path of personal development.
With over 33 years of experience in a broad range of personal growth modalities and martial art styles, I am a seasoned teacher and therapist.
I have extensive training in traditional lineages as well as modern practices, with comprehensive knowledge of the body-mind system and the cultivation and transformation of vital life energy.
I particularly love to work with the correlation between Eastern systems of body-mind-energy development and Western psychotherapeutic processes. I find this helps develop a much fuller experience of body, mind and heart.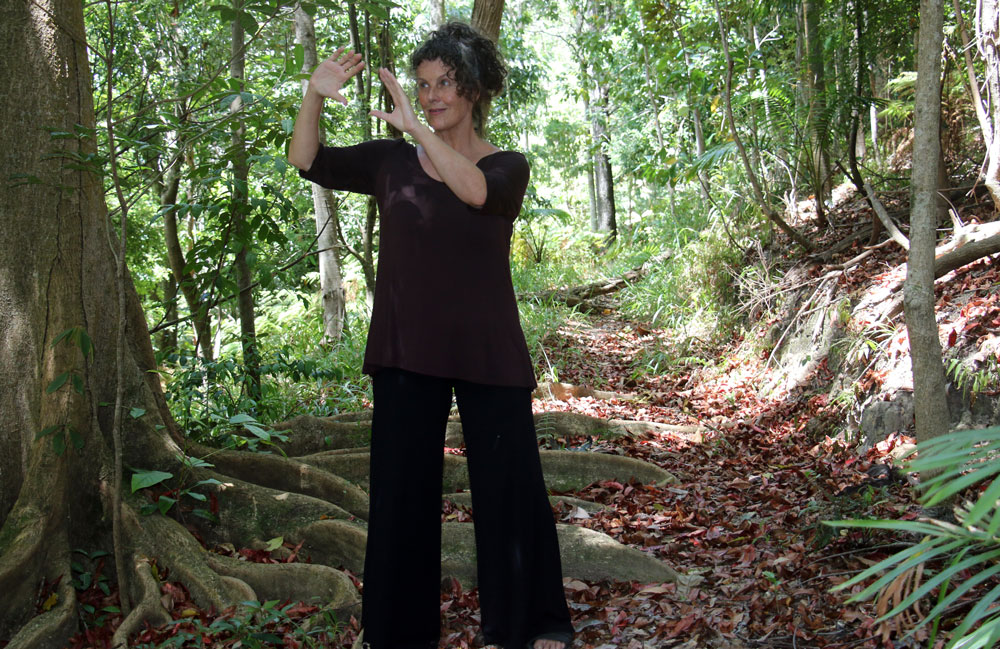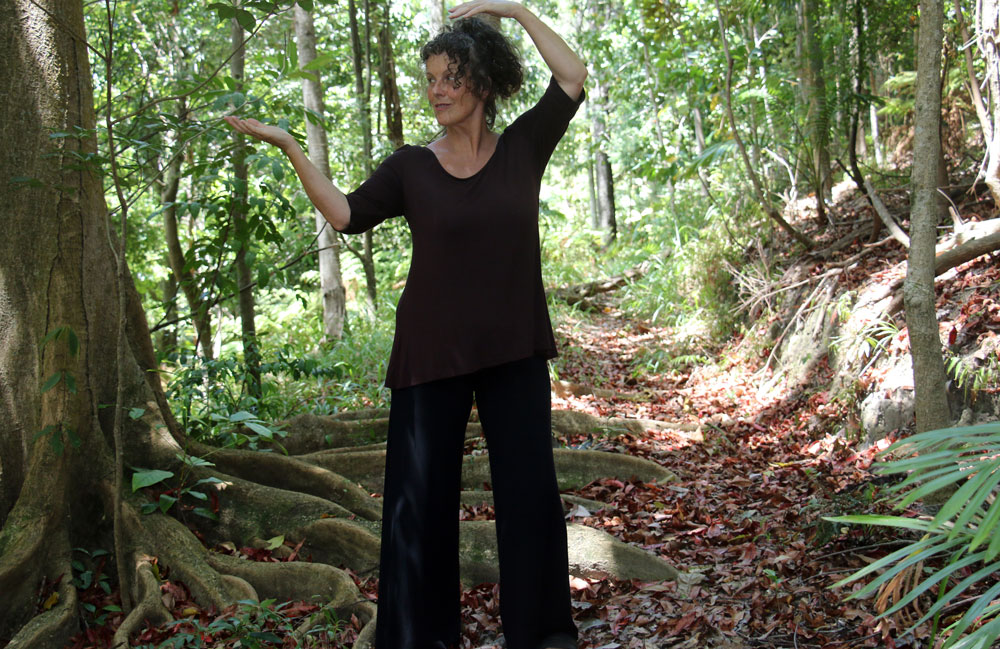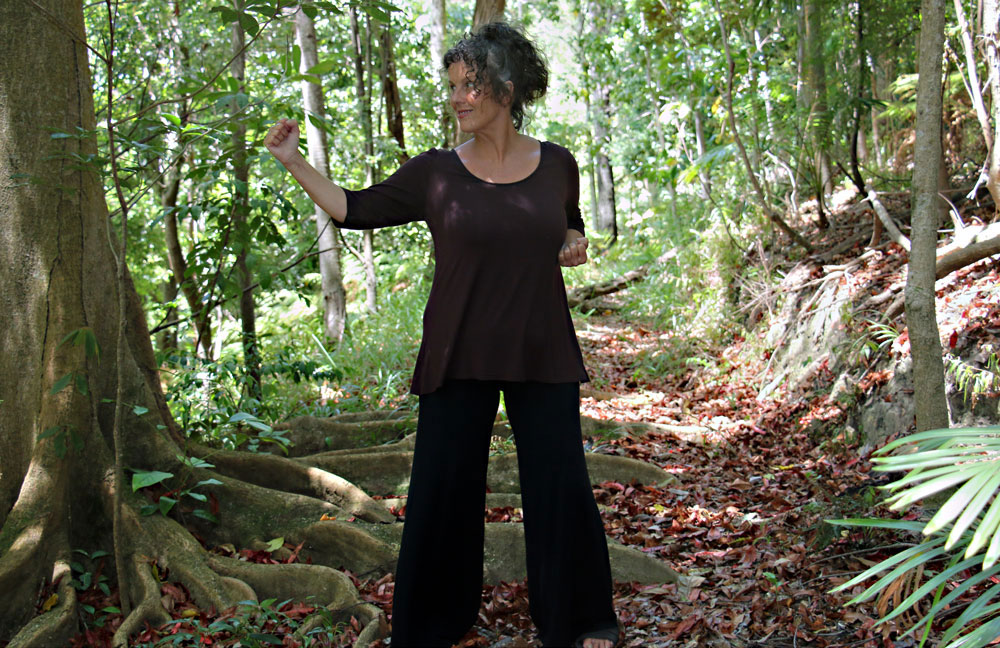 With an integrated approach to physical, mental, emotional and spiritual development, I offer you holistic and practical skills for contemporary living. Come and join me for a heartening journey into cultivating your life-force.
I have always been intrigued by systems which cultivate body, mind and energy – drawn to the mysteries of meditation and evolving consciousness, and captivated by the dynamic spirit of Asian cultures with their mastery of refined form, harmonious movement and inner stillness.
In my early 20's, after four years studying visual arts at Sydney College of the Arts, I began exploring further methods of self-development and meditation. While living in a personal growth community, I dived into the active meditations of Osho Rajneesh along with a range of intensive psychotherapies based on freeing up emotional energy, liberating self-expression and finding deeper layers of truth, love and connectedness.
These early years of emotional exploration enlivened me with greater expansion, connection and full bodied pleasure. Eventually however, I needed to develop more internal strength and focused direction in life. I found an expression of truth in action in Eastern martial arts and mindfulness techniques which access deeper layers of body and mind and offer a well-structured path to self-mastery. This new focus became an empowering adjunct to my therapeutic processes.
At age 25, I began daily training of the Korean martial art style of Hapkido – The Art of Co-ordinated Power, in Sydney with Master Sung Su Kim. I connected strongly with this empowering body-mind system and received great inspiration from Master Kim's dynamic energy and generous warrior spirit. After just one year of training, he invited me to open my own Hapkido Dojang (school).
At first I was reluctant to establish my own Dojang as I didn't really identify with being a martial artist, and considered myself to be more of an embodied meditator who enjoyed expressing strength through martial art forms. But I finally accepted on the condition that my school would serve the purpose of training people not to fight, but to prepare the body and mind for self-enquiry and meditation. Grandmaster Kim gave his full endorsement and so I became his sole instructor who created a Dojang based on an internal, holistic approach to martial arts.
In 1986 I founded my Hapkido school in downtown Byron Bay as the Principal Teacher to a great many dedicated students. This launched a 34 year journey of daily practice and teaching across broad range of strong martial arts styles and Eastern traditions that develop and integrate body, mind and spirit, including the self-healing and meditative styles of Tai Chi and Qigong.
From 1991 to 1993, I went to live in South Korea on sabbatical to be immersed in Eastern culture and full-time martial arts training. During this time I gained additional qualifications in Hapkido, Soo Bahk Do, Wu Shu and Tai Chi. The intensity of the training in Korea extended my understanding of how to initiate movement from the Tanjen Centre, employ fluid circular motion, generate relaxed power and harmonize with incoming forces.
Wishing to deepen further into internal training, upon my return to Byron Bay I began daily classes in both the Yang Style of Tai Chi and the art of Qigong, with the accomplished teacher Roger Cotgreave. I learned much during these years as Roger taught these arts from the inside out with great attentiveness and was kind and generous in his approach. Roger was a colleague of Patrick Kelly, the closest Western student of Master Huang Sheng-Shuan (1910 – 1992) who, in turn, was one of the most outstanding students of Cheng Man–Ch'ing (1898 – 1975). It was Cheng who promoted the Yang Style of Tai Chi in the West.
In 1995 I became a student of Patrick Kelly and under his guidance continue to teach the traditions and training methods of the Yang Style, including the deep mind system of alignment and relaxation, focused awareness and intention, and the internal sensing techniques that are the fundamental training methods of this profoundly authentic style. I began teaching Tai Chi and Qigong in 1999, and have continued developing knowledge since this time.
Since 1986, I've given motivation to many hundreds of practitioners of all ages, through programmes which express an extensive knowledge of the body-mind system and understanding of body mechanics and economy of movement. There has been much attention given to the refinement of the Dantien Energy Centres – Upper (head), Middle (heart) and Lower (belly), and the movement generated around these fundamental bio-energetic phenomena. I've particularly enjoyed alternating strong Yang action moves with soft Yin stillness, and in this way inspired a dynamic style of meditation which promotes resilience, strength and inner calm.
Systematic instruction in regulated breathing methods, focused awareness, inner sensing techniques and the cultivation of vital life energy known as 'Ki' or 'Qi' (Chi), has provided an internal focus which is the defining feature of the training at Heart Mind Centre. This balance of inner sensing, full body awareness and outer focus in movement has given much depth and meaning to my students' experience. My school has been loved by all who've leapt in to explore the joy of expanding energy while deepening the mind.
From 2005 to 2016 I trained in Hapkiyusul, the root of modern Hapkido, with Korean Grandmaster Kim Yun Sang. Although this system was technically advanced and I was a skilled practitioner and teacher, it inevitably became too rigid and dictatorial for me. I felt my personal development and inner truth was hindered by such an authoritarian and restrictive approach and I needed to resume a path which fully embraces the feminine.
What I missed in traditional martial arts was a training which promotes more complete personal development, such as: real spontaneity; creativity; allowing responsive emotional truth; natural self-expression; nurturing an open and connected heart; sincere humility and harmony. I wanted to find a body-mind system which encapsulated these heartfelt aspects of being human and came across Core Energetics, a system of Somatic (Body) Psychotherapy.
From 2016 to 2019 I trained in Core Energetics with Andrea Alexander at her Institute of Body Psychotherapy in Brisbane. This work interfaces seamlessly with all my previous training as it incorporates being grounded, anchoring embodied awareness, releasing muscular armouring, unblocking energy blocks, freeing up the flow of lifeforce, regulating the nervous system; building internal strength and centredness, releasing limiting belief systems and behavioural patterns, and liberating natural self-expression.
Since embracing the methods of Core Energetics, I'm enjoying a fuller energetic balance between body, mind, emotions and spirit. My Body Psychotherapy Practice serves the local community with individual sessions that cultivate physical, emotional, mental and spiritual awareness and healing. It is deeply heart-warming to witness this beautiful, compassionate and respectful work unfold within each person, and enjoy the vitality and freedom it brings.
In 2016 I closed my 30 year Byron Bay Dojang and now deliver the arts of Tai Chi, Qigong and Tao Spirit in classes, workshops and retreats around the Byron Shire and beyond. My teaching continues to be informed by the empowerment of martial arts training and Eastern mindfulness techniques, but is more integrated and fulfilling through incorporating the wisdom of Body Psychotherapy.
My work has now come full circle – from painting to meditation to psychotherapy to martial arts. Then back around to encompass Psychotherapy, with some time for painting. Life is enriched with insight, value and loving connection and I'm privileged and grateful to be able to empower others on their unique journey of personal development.
Student Testimonials
hover over the text to pause slider
Diti, Music Teacher
I was overjoyed when I found Tai Chi classes with Shirsha. I had been suffering from arthritis in my knees, which meant I could not walk more than a few metres. Also I had been diagnosed with mild emphysema so my doctor suggested that I do Tai Chi to help my lungs repair. Now after three years of practice my lungs are healthy, I can take long walks on the beach and I have high energy and excellent health.
Diti, Music Teacher
Judy, Creative Arts Teacher
Qigong makes me feel very good and is so enjoyable to do. The movements are  easy and so uncomplicated, but seem to work in profound ways. I feel better and better, more relaxed and more energised as the Qigong session progresses, and the feeling of vitality lasts all day! I have much more strength now. I feel lighter and clearer in my mind, happy and positive. My shoulder stiffness is gone and my eyesight and digestion have improved. We are so lucky to have a teacher with a true depth of knowledge who instructs with sensitivity and clarity, deftly catering to all ability levels.
Judy, Creative Arts Teacher
Deb, Organic Chef
I cannot recommend the Qigong taught at
Heart Mind Centre
highly enough. Each class is like a deeply healing massage and meditation. Deeply healing because the Qigong movements open up the channels for energy to flow throughout all areas of my body. And meditative because my mind becomes single focused on the exercises and the breathing. Although I have always enjoyed strong physical exercise I can feel that this is actually more powerful in its capacity to keep me fit and healthy.
Deb, Organic Chef
Dawn, Retired Nurse
Qigong is absorbing. It enables me to develop stillness and calm in my body. I had suffered from poor posture and not feeling stable and connected through my body. I had tried other Qigong teachers but found that often the methods would oppose my body in a manner which was aggressive, forcing my body into the forms and positions. With Shirsha I have been helped to work with my own body and its particular needs with patience and acceptance; to improve my stance and posture and feel balanced; to become truly relaxed with my strength and comfortable in my own body. After the classes these benefits do not stop – I am able to tap into the source of my body's wisdom and take this skill into my daily life.
Dawn, Retired Nurse
Megan, Management
I have been attending Shirsha's classes since February 2018 and practicing most days each week at home or by the river. Shirsha is an excellent teacher, her style is warm, clear and very thorough and her depth of knowledge is evident. I have received so much benefit from Qigong. It centres me, relaxes and calms my nervous system and energises me, all at the same time. I sometimes have issues with restricted breathing which this practice helps. It's even improved my eye sight as attested by my optometrist. Thank you Shirsha!
Megan, Management
Monique,  Theatre coach and French tutor
"Shisha conducts her Qigong classes with so much patience, care and gentleness that I always feel empowered and guided by her in deeply feeling my energy and knowing my body better. Her mastery and clarity in turn also help me to tap into a wonderful inner flow, which has proven overtime to be extremely healing and regenerating for me."
Monique,  Theatre coach and French tutor

Shirsha Marie
energy arts & meditation

Tai Chi
discover stillness in action

Qigong
create harmony in motion

Body Psychotherapy
find natural self-expression

Tao Spirit
enjoy balance in life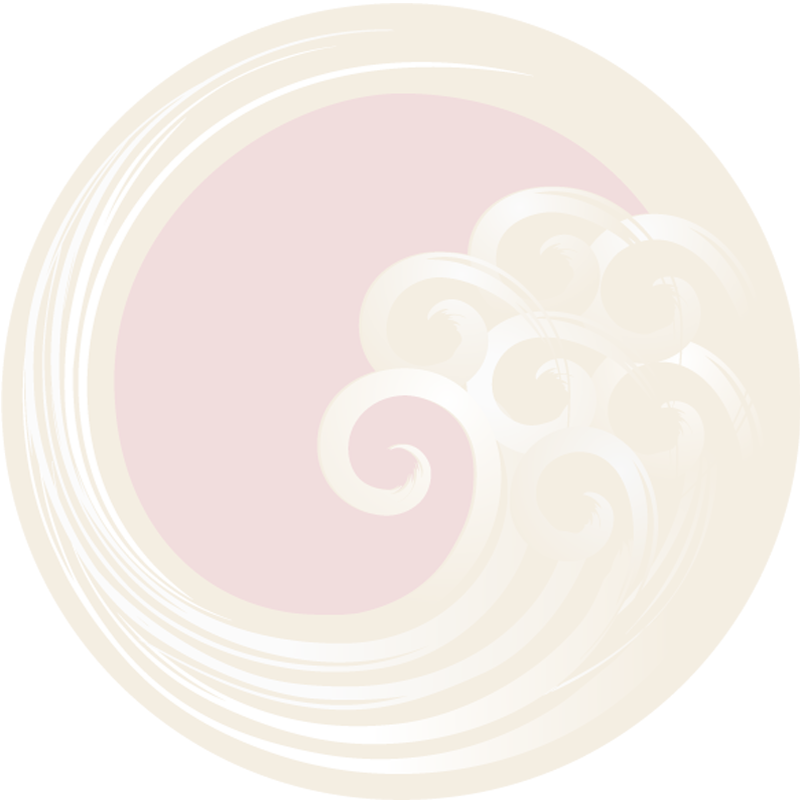 Would you like to have more energy, better health and greater resilience?
Do you want to be more relaxed, grounded and at ease in your daily life?
Would you like to feel more centred, emotionally balanced and calm?
Hi, I'm Shirsha Marie and I'm here to help. Energising and balancing heart, mind and body are central to my approach to health and personal development. With warm-hearted expertise I can support you to enjoy a more connected, fulfilling relationship with yourself and with life.
Tai Chi, Qigong, Body Psychotherapy and Tao Spirit each cultivate vital life energy, mindful awareness, emotional balance and natural self-expression. Come join me and learn one of these empowering self-healing systems.
Health is the greatest possession. Contentment is the greatest treasure.
Confidence is the greatest friend. Non-being is the greatest joy.
Lao Tzu – 6th Century BC

Learn Qigong at home with a beautiful range of Instructional Videos
Student Testimonials
hover over the text to pause slider
Elisabeth, Art and Ancient History Teacher
Studying Tai Chi with Shirsha Marie these last six years has turned my health around from being a burnt out school teacher to feeling younger every year. It has cured a range of problems which were accumulating such as sore heels, lower back pain and damaged shoulders. The cartilage problems in my knees have not deteriorated and are no longer extremely painful. I can now enjoy many more years pursuing my career.
Elisabeth, Art and Ancient History Teacher
Anna, Lawyer
I have been practising Qigong with Shirsha for more than 4 years. Of all the exercise and movement forms I have tried over the years, this has been the most interesting and rewarding. Over time, I've experienced certain physiological changes which neither medical nor alternative therapies have been able to produce - but the form has much to offer beyond the physical, and my sense is that one gets what one needs from it. The teaching here is deep and refined, and every class reveals something new to me in the form. There is an ever-unfolding exquisite subtlety to be found here.
Anna, Lawyer
Megan, Management
I have been attending Shirsha's classes since February 2018 and practicing most days each week at home or by the river. Shirsha is an excellent teacher, her style is warm, clear and very thorough and her depth of knowledge is evident. I have received so much benefit from Qigong. It centres me, relaxes and calms my nervous system and energises me, all at the same time. I sometimes have issues with restricted breathing which this practice helps. It's even improved my eye sight as attested by my optometrist. Thank you Shirsha!
Megan, Management
Lynne, Social Worker
I have been attending Qigong classes at Heart Mind Centre for around 6 months. I feel totally safe within the class atmosphere and realize all the health benefits of this beautiful meditative style of movement for body and soul. At the completion of every class I feel so much more aware of balance, harmony and calm from within. Our teacher, Shirsha shares the most beautiful, graceful presentation of the Qigong movements, always with careful guidance and with insightful instruction. This has become a very powerful and deep experience for me. I have gratitude for her sharing of inner light and strength with me in this long journey of developing Chi.
Lynne, Social Worker
Tom, PhD. Consultant
I have been a Tai Chi and Qigong student with Shirsha Marie for 14 years. Without hesitation I can assert that the particular forms and style of practice I have learned over this period have enabled me to successfully manage a chronic spinal injury. With my instructor's guidance I have been able to change my body alignment, develop skills of balance and coordination, and gain strength and power. Shirsha has refined skills and a deep understanding of martial arts and energy work in general. The overwhelmingly positive energy of this large and beautiful school is available for all students in their practice.
Tom, PhD. Consultant
Paul, Organic Farming Teacher
I am most grateful for the commitment and compassion of our Tai Chi teacher Shirsha Marie. For 10 years now I have been practicing Tai Chi at the Centre here in Byron Bay and have been able to free my body from back and joint pain. Tai Chi has helped me to move to a deeper and more satisfying level of meditation. There are so many benefits for mind body and spirit from this ancient art.
Paul, Organic Farming Teacher