Warrior Woman
Empowerment from Within
resilience and balance
A dynamic fusion of martial arts, qigong and body psychotherapy moves
for internal strength and well-being
"At the centre of your being you have the answer;
you know who you are and you know what you want."
― Lao Tzu (6th-century BC)
Warrior Woman is my programme of developing vital life energy and mindful awareness through a powerful synthesis of martial arts forms, Qigong exercises, and grounding and energising moves of Body Psychotherapy. It cultivates well-being on all levels – physical, mental, emotional and spiritual.
Warrior Woman includes flowing strikes and kicks integrated with deep breathing methods, strength postures and vocal expression. These techniques develop all-round fitness while improving flexibility and balance. We learn to focus our power and centre the mind, both in stillness and in action, for greater resilience and inner calm.
Warrior Woman suits all women who would like to increase their sense of aliveness, balance emotional energy, and enjoy life with more vigour. This fun and energising system improves self-confidence and develops fuller self-expression for living a joyful life.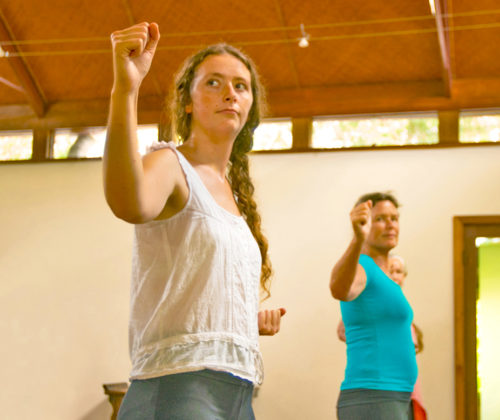 Student Testimonials
hover over the text to pause slider
Chrissy Olsen, Author
Shirsha Marie is quite simply one of the best teachers I have ever had. I began studying Qigong with her 3 years ago. It has had a profound effect on my life, leading to a quieter, deeper equilibrium within me. I am looking forward to further years of study with her.
Chrissy Olsen, Author
Judy, Creative Arts Teacher
Qigong makes me feel very good and is so enjoyable to do. The movements are  easy and so uncomplicated, but seem to work in profound ways. I feel better and better, more relaxed and more energised as the Qigong session progresses, and the feeling of vitality lasts all day! I have much more strength now. I feel lighter and clearer in my mind, happy and positive. My shoulder stiffness is gone and my eyesight and digestion have improved. We are so lucky to have a teacher with a true depth of knowledge who instructs with sensitivity and clarity, deftly catering to all ability levels.
Judy, Creative Arts Teacher
Dr David Retired Doctor
I am a doctor retired after forty years of medical practice in Byron Shire. As part of my quest in maintaining health into senior years, I have been attending Shirsha Marie's classes in Mullumbimby and Brunswick Heads and have also done a day Life-force Workshop. Shirsha is very dedicated to the healing traditions of Qigong and related Tai-chi and she makes it easy to follow with her clear demonstrations and explanations of this healing art which engages body, mind and breath.
Dr David Retired Doctor
Brinn, Manager
I have been practicing Tai Chi and Qigong for 1.5 years with Shirsha with great benefit to mind and body. Her teaching style transmits the finer points and internal aspects of these arts very well, while keeping a calm and respectful environment. For me Tai Chi and Qigong are a perfect continuation of my internal development, martial and body maintenance  practices.
Brinn, Manager
Diti, Music Teacher
I was overjoyed when I found Tai Chi classes with Shirsha. I had been suffering from arthritis in my knees, which meant I could not walk more than a few metres. Also I had been diagnosed with mild emphysema so my doctor suggested that I do Tai Chi to help my lungs repair. Now after three years of practice my lungs are healthy, I can take long walks on the beach and I have high energy and excellent health.
Diti, Music Teacher
Anna, Lawyer
I have been practising Qigong with Shirsha for more than 4 years. Of all the exercise and movement forms I have tried over the years, this has been the most interesting and rewarding. Over time, I've experienced certain physiological changes which neither medical nor alternative therapies have been able to produce - but the form has much to offer beyond the physical, and my sense is that one gets what one needs from it. The teaching here is deep and refined, and every class reveals something new to me in the form. There is an ever-unfolding exquisite subtlety to be found here.
Anna, Lawyer