Warrior Spirit
Body-Mind Fitness
inner strength and balance
Fusion of dynamic Tai Chi moves and gentle Qigong exercise
"At the centre of your being you have the answer;
you know who you are and you know what you want."
― Lao Tzu (6th-century BC)
Warrior Spirit is my programme of developing vital life energy and mindful awareness through a powerful synthesis of martial arts forms and Qigong breathing and moving exercises. It is grounding and energising, releases stress and cultivates well-being on all levels – physical, mental, emotional and spiritual.
Warrior Spirit includes flowing strikes and kicks integrated with deep breathing methods, strength postures and vocal expression. These techniques develop all-round fitness while improving flexibility and balance. We learn to focus our power and centre the mind, both in stillness and in action, for greater resilience and inner calm.
Warrior Spirit teaches how to deliver focus and power through economy of movement, using the body's natural joint articulations and postures while moving from the Lower Dantian, Belly Centre. The way I teach supports smooth, rhythmic, fluid movement and expression of energy. We therefore do not get injured. In fact, the movements will strengthen and repair.
The rapid co-ordination of the moves, along with mind-centering techniques, develops a focused and agile mind which is excellent for keeping the mind toned and flexible. We also enjoy loud Ki-yup warrior shouts, and this both focuses and frees up physical, emotional and mental energy in a dynamic and liberating way.
Warrior Spirit suits all people who would like to increase their sense of aliveness and enjoy life with more vigour and balance. This fun and energising system improves self-confidence and develops fuller self-expression for living a joyful life. All are welcome to Warrior Spirit.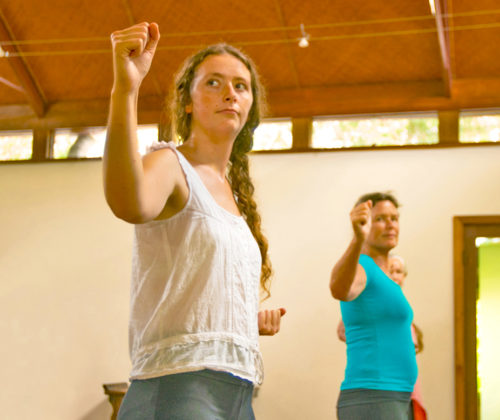 Student Testimonials
hover over the text to pause slider
Dawn, Retired Nurse
Qigong is absorbing. It enables me to develop stillness and calm in my body. I had suffered from poor posture and not feeling stable and connected through my body. I had tried other Qigong teachers but found that often the methods would oppose my body in a manner which was aggressive, forcing my body into the forms and positions. With Shirsha I have been helped to work with my own body and its particular needs with patience and acceptance; to improve my stance and posture and feel balanced; to become truly relaxed with my strength and comfortable in my own body. After the classes these benefits do not stop – I am able to tap into the source of my body's wisdom and take this skill into my daily life.
Dawn, Retired Nurse
Megan, Management
I have been attending Shirsha's classes since February 2018 and practicing most days each week at home or by the river. Shirsha is an excellent teacher, her style is warm, clear and very thorough and her depth of knowledge is evident. I have received so much benefit from Qigong. It centres me, relaxes and calms my nervous system and energises me, all at the same time. I sometimes have issues with restricted breathing which this practice helps. It's even improved my eye sight as attested by my optometrist. Thank you Shirsha!
Megan, Management
Angeline, Journalist
"I have always suffered from low energy levels, but after a Qigong class I feel like a dynamo, and can run around town with plenty of juice! Qigong gives me the inner strength and focus I need. When I practice Qigong I feel like my entire body has been flooded with light and energy. Shirsha's style of teaching is masterful, the perfect mix of physical and breathing techniques."
Angeline, Journalist
Judy, Creative Arts Teacher
Qigong makes me feel very good and is so enjoyable to do. The movements are  easy and so uncomplicated, but seem to work in profound ways. I feel better and better, more relaxed and more energised as the Qigong session progresses, and the feeling of vitality lasts all day! I have much more strength now. I feel lighter and clearer in my mind, happy and positive. My shoulder stiffness is gone and my eyesight and digestion have improved. We are so lucky to have a teacher with a true depth of knowledge who instructs with sensitivity and clarity, deftly catering to all ability levels.
Judy, Creative Arts Teacher
Chrissy Olsen, Author
Shirsha Marie is quite simply one of the best teachers I have ever had. I began studying Qigong with her 3 years ago. It has had a profound effect on my life, leading to a quieter, deeper equilibrium within me. I am looking forward to further years of study with her.
Chrissy Olsen, Author
Sera, Artist
The alignment and deep breathing practices of Qigong really improve my posture and support my health. I have suffered from chronic fatigue as well as very difficult emotional states, and I find that, no matter how bad I might feel before a class, afterwards I feel cleared energetically with a lovely centred healthy feeling. I've had about 6 different Taiji and Qigong Teachers in the past, and I find that this teacher has a refined blend of warmth, grace and professionalism which creates a strong sense of safety in the practice. I've never before been so encouraged to come into a full embodied presence and I don't imagine I would find better instruction anywhere else. Thankyou.
Sera, Artist