balance in life

dynamic fusion of martial arts, qigong and core energetics moves
for empowerment and well-being
Tao Spirit is the culmination of my 35 years of training and teaching internal martial arts and embodied meditation practices.
It is a powerful synthesis of four martial art styles as well as a selection of movement and energy development techniques from the systems of Tai chi, Qigong and body-based Psychotherapy. Tao Spirit is invigorating and loads of fun as we celebrate our soft and strong energies and welcome our true power.
I am looking forward to offering this work to all women who would like to build their focus, strength and aliveness, and enjoy life with more confidence and fuller self-expression.
Online Classes are coming soon.
Please register your interest here.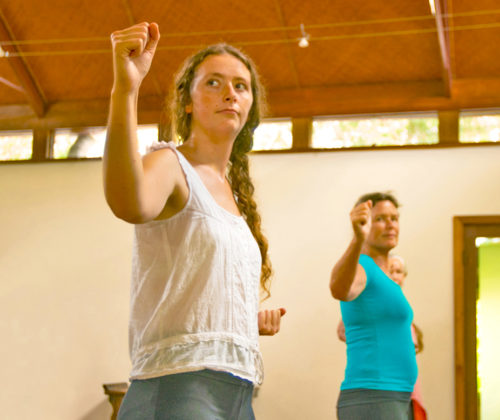 Student Testimonials
hover over the text to pause slider
Leonie, Business Owner
After nearly 18 months of Hapkido training, I've gained a great deal of strength, improved flexibility and there appears to be a kind of physical re-alignment occurring. Beyond the physical, I've noticed improvements in my ability to focus and have gained greater clarity and calmness of mind. With Shirsha we train in an environment of acceptance, mutual respect and integrity. As a beginner, I feel I have just touched the surface and am excited about continuing to train and discover more of what this very old and beautiful art has to offer.
Leonie, Business Owner
Lynne, Social Worker
I have been attending Qigong classes at Heart Mind Centre for around 6 months. I feel totally safe within the class atmosphere and realize all the health benefits of this beautiful meditative style of movement for body and soul. At the completion of every class I feel so much more aware of balance, harmony and calm from within. Our teacher, Shirsha shares the most beautiful, graceful presentation of the Qigong movements, always with careful guidance and with insightful instruction. This has become a very powerful and deep experience for me. I have gratitude for her sharing of inner light and strength with me in this long journey of developing Chi.
Lynne, Social Worker
Megan, Management
I have been attending Shirsha's classes since February 2018 and practicing most days each week at home or by the river. Shirsha is an excellent teacher, her style is warm, clear and very thorough and her depth of knowledge is evident. I have received so much benefit from Qigong. It centres me, relaxes and calms my nervous system and energises me, all at the same time. I sometimes have issues with restricted breathing which this practice helps. It's even improved my eye sight as attested by my optometrist. Thank you Shirsha!
Megan, Management
Sono, Creative Director
Through Tai Chi I experience a profound sense of myself and my world. It is a powerful vehicle that brings my mind into union with my body, my life force and into resonance with the heartbeat of life. My years training with Shirsha have been a wonderful blend of informative instruction and interesting learning. We have been incredibly lucky to have been taught by an instructor who, not only is passionate about these arts but embodies grace, patience and the rare ability to transfer her knowledge whilst retaining impeccably, the integrity of this extraordinary art.
Sono, Creative Director
Tom, PhD. Consultant
I have been a Tai Chi and Qigong student with Shirsha Marie for 14 years. Without hesitation I can assert that the particular forms and style of practice I have learned over this period have enabled me to successfully manage a chronic spinal injury. With my instructor's guidance I have been able to change my body alignment, develop skills of balance and coordination, and gain strength and power. Shirsha has refined skills and a deep understanding of martial arts and energy work in general. The overwhelmingly positive energy of this large and beautiful school is available for all students in their practice.
Tom, PhD. Consultant
Dawn, Retired Nurse
Qigong is absorbing. It enables me to develop stillness and calm in my body. I had suffered from poor posture and not feeling stable and connected through my body. I had tried other Qigong teachers but found that often the methods would oppose my body in a manner which was aggressive, forcing my body into the forms and positions. With Shirsha I have been helped to work with my own body and its particular needs with patience and acceptance; to improve my stance and posture and feel balanced; to become truly relaxed with my strength and comfortable in my own body. After the classes these benefits do not stop – I am able to tap into the source of my body's wisdom and take this skill into my daily life.
Dawn, Retired Nurse