balance in life

dynamic fusion of martial arts, qigong and core energetics moves
for empowerment and well-being
Tao Spirit is the culmination of my 35 years of training and teaching internal martial arts and embodied meditation practices.
It is a powerful synthesis of four martial art styles as well as a selection of movement and energy development techniques from the systems of Tai chi, Qigong and body-based Psychotherapy. Tao Spirit is invigorating and loads of fun as we celebrate our soft and strong energies and welcome our true power.
I am looking forward to offering this work to all women who would like to build their focus, strength and aliveness, and enjoy life with more confidence and fuller self-expression.
Online Classes are coming soon.
Please register your interest here.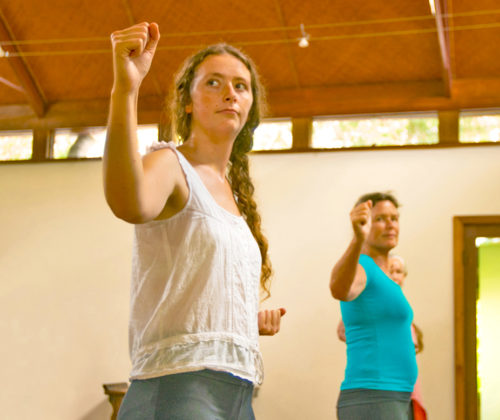 Student Testimonials
hover over the text to pause slider
Deb, Organic Chef
I cannot recommend the Qigong taught at
Heart Mind Centre
highly enough. Each class is like a deeply healing massage and meditation. Deeply healing because the Qigong movements open up the channels for energy to flow throughout all areas of my body. And meditative because my mind becomes single focused on the exercises and the breathing. Although I have always enjoyed strong physical exercise I can feel that this is actually more powerful in its capacity to keep me fit and healthy.
Deb, Organic Chef
Brinn, Manager
I have been practicing Tai Chi and Qigong for 1.5 years with Shirsha with great benefit to mind and body. Her teaching style transmits the finer points and internal aspects of these arts very well, while keeping a calm and respectful environment. For me Tai Chi and Qigong are a perfect continuation of my internal development, martial and body maintenance  practices.
Brinn, Manager
Robert, Retired Disability Support Worker
The mixed Qigong and Tai Chi class is a focal point of my week as a chance to reset energetically. The practice has enhanced my balance, attitude and posture. Annual health check revealed that I have recovered 6 mm in height. It has helped me reconnect with the quality of awareness that is found in meditation.
Robert, Retired Disability Support Worker
Diti, Music Teacher
I was overjoyed when I found Tai Chi classes with Shirsha. I had been suffering from arthritis in my knees, which meant I could not walk more than a few metres. Also I had been diagnosed with mild emphysema so my doctor suggested that I do Tai Chi to help my lungs repair. Now after three years of practice my lungs are healthy, I can take long walks on the beach and I have high energy and excellent health.
Diti, Music Teacher
Leonie, Business Owner
After nearly 18 months of Hapkido training, I've gained a great deal of strength, improved flexibility and there appears to be a kind of physical re-alignment occurring. Beyond the physical, I've noticed improvements in my ability to focus and have gained greater clarity and calmness of mind. With Shirsha we train in an environment of acceptance, mutual respect and integrity. As a beginner, I feel I have just touched the surface and am excited about continuing to train and discover more of what this very old and beautiful art has to offer.
Leonie, Business Owner
Natalie, Health Worker
I came to these classes as a novice to Qigong and have found this to be a beautiful and relaxing introduction. Shirsha's style of teaching has been very personalised for all levels which has made it an easy adjustment for me as a beginner. I have noticed immediate positive effects on my own health and mind and body - I have suffered from low energy and heart palpitations but since starting these classes this has reduced significantly and I have much more energy and balance in my mind and emotions. I leave each class feeling rejuvenated and full of vitality. Qigong is a joy to learn and practice.
Natalie, Health Worker