balance in life

dynamic fusion of martial arts, qigong and core energetics moves
for empowerment and well-being
Tao Spirit is the culmination of my 35 years of training and teaching internal martial arts and embodied meditation practices.
It is a powerful synthesis of four martial art styles as well as a selection of movement and energy development techniques from the systems of Tai chi, Qigong and body-based Psychotherapy. Tao Spirit is invigorating and loads of fun as we celebrate our soft and strong energies and welcome our true power.
I am looking forward to offering this work to all women who would like to build their focus, strength and aliveness, and enjoy life with more confidence and fuller self-expression.
Online Classes are coming soon.
Please register your interest here.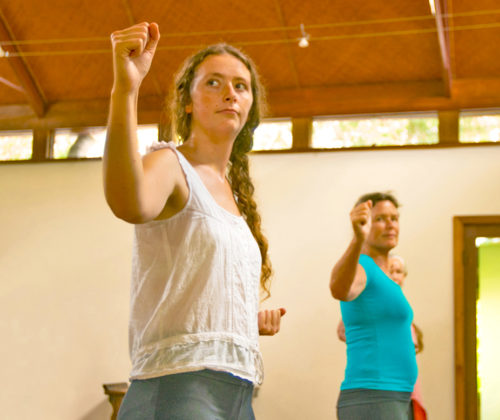 Student Testimonials
hover over the text to pause slider
Monique,  Theatre coach and French tutor
"Shisha conducts her Qigong classes with so much patience, care and gentleness that I always feel empowered and guided by her in deeply feeling my energy and knowing my body better. Her mastery and clarity in turn also help me to tap into a wonderful inner flow, which has proven overtime to be extremely healing and regenerating for me."
Monique,  Theatre coach and French tutor
Angeline, Journalist
"I have always suffered from low energy levels, but after a Qigong class I feel like a dynamo, and can run around town with plenty of juice! Qigong gives me the inner strength and focus I need. When I practice Qigong I feel like my entire body has been flooded with light and energy. Shirsha's style of teaching is masterful, the perfect mix of physical and breathing techniques."
Angeline, Journalist
Sono, Creative Director
Through Tai Chi I experience a profound sense of myself and my world. It is a powerful vehicle that brings my mind into union with my body, my life force and into resonance with the heartbeat of life. My years training with Shirsha have been a wonderful blend of informative instruction and interesting learning. We have been incredibly lucky to have been taught by an instructor who, not only is passionate about these arts but embodies grace, patience and the rare ability to transfer her knowledge whilst retaining impeccably, the integrity of this extraordinary art.
Sono, Creative Director
Alison, Teacher
After major back surgery 10 years ago I was afraid of exercise. I went to Qigong after hearing about an incredible qualified instructor. I was immediately comfortable with Shirsha's patient, professional and personal style of teaching. It has been so helpful to be able to take home what she has taught me, and to be able to relax and have the correct stance as I do an exercise. In my travels I have been to many other Qigong Instructors. This one is absolutely dedicated to her profession and her students, plus being gentle and caring.  I am 70 years old.
Alison, Teacher
Paul, Organic Farming Teacher
I am most grateful for the commitment and compassion of our Tai Chi teacher Shirsha Marie. For 10 years now I have been practicing Tai Chi at the Centre here in Byron Bay and have been able to free my body from back and joint pain. Tai Chi has helped me to move to a deeper and more satisfying level of meditation. There are so many benefits for mind body and spirit from this ancient art.
Paul, Organic Farming Teacher
Megan, Management
I have been attending Shirsha's classes since February 2018 and practicing most days each week at home or by the river. Shirsha is an excellent teacher, her style is warm, clear and very thorough and her depth of knowledge is evident. I have received so much benefit from Qigong. It centres me, relaxes and calms my nervous system and energises me, all at the same time. I sometimes have issues with restricted breathing which this practice helps. It's even improved my eye sight as attested by my optometrist. Thank you Shirsha!
Megan, Management