balance in life

dynamic fusion of martial arts, qigong and core energetics moves
for empowerment and well-being
Tao Spirit is the culmination of my 35 years of training and teaching internal martial arts and embodied meditation practices.
It is a powerful synthesis of four martial art styles as well as a selection of movement and energy development techniques from the systems of Tai chi, Qigong and body-based Psychotherapy. Tao Spirit is invigorating and loads of fun as we celebrate our soft and strong energies and welcome our true power.
I am looking forward to offering this work to all women who would like to build their focus, strength and aliveness, and enjoy life with more confidence and fuller self-expression.
Online Classes are coming soon.
Please register your interest here.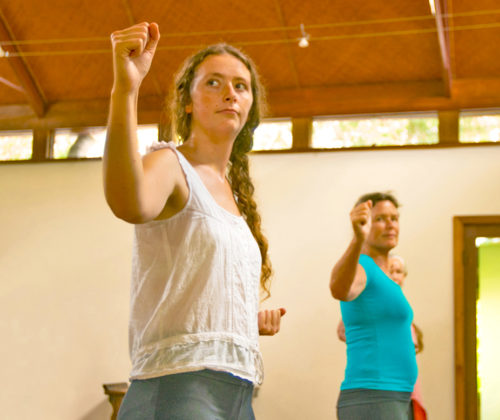 Student Testimonials
hover over the text to pause slider
Brinn, Manager
I have been practicing Tai Chi and Qigong for 1.5 years with Shirsha with great benefit to mind and body. Her teaching style transmits the finer points and internal aspects of these arts very well, while keeping a calm and respectful environment. For me Tai Chi and Qigong are a perfect continuation of my internal development, martial and body maintenance  practices.
Brinn, Manager
Elisabeth, Art and Ancient History Teacher
Studying Tai Chi with Shirsha Marie these last six years has turned my health around from being a burnt out school teacher to feeling younger every year. It has cured a range of problems which were accumulating such as sore heels, lower back pain and damaged shoulders. The cartilage problems in my knees have not deteriorated and are no longer extremely painful. I can now enjoy many more years pursuing my career.
Elisabeth, Art and Ancient History Teacher
Linda, Business Owner
Training Hapkido with Shirsha has changed my life. I feel stronger, more resilient both mentally and physically. I'm calmer and get less injuries than ever before. I have always lived with pain in my neck and back from a young age, caused by various injuries throughout my life, this has been reduced substantially since starting this form of martial arts. Warning: Once you experience the health benefits of this school, you WILL become addicted. Not to mention the students are a fantastic bunch of people."
Linda, Business Owner
Leonie, Business Owner
After nearly 18 months of Hapkido training, I've gained a great deal of strength, improved flexibility and there appears to be a kind of physical re-alignment occurring. Beyond the physical, I've noticed improvements in my ability to focus and have gained greater clarity and calmness of mind. With Shirsha we train in an environment of acceptance, mutual respect and integrity. As a beginner, I feel I have just touched the surface and am excited about continuing to train and discover more of what this very old and beautiful art has to offer.
Leonie, Business Owner
Monique,  Theatre coach and French tutor
"Shisha conducts her Qigong classes with so much patience, care and gentleness that I always feel empowered and guided by her in deeply feeling my energy and knowing my body better. Her mastery and clarity in turn also help me to tap into a wonderful inner flow, which has proven overtime to be extremely healing and regenerating for me."
Monique,  Theatre coach and French tutor
Sera, Artist
The alignment and deep breathing practices of Qigong really improve my posture and support my health. I have suffered from chronic fatigue as well as very difficult emotional states, and I find that, no matter how bad I might feel before a class, afterwards I feel cleared energetically with a lovely centred healthy feeling. I've had about 6 different Taiji and Qigong Teachers in the past, and I find that this teacher has a refined blend of warmth, grace and professionalism which creates a strong sense of safety in the practice. I've never before been so encouraged to come into a full embodied presence and I don't imagine I would find better instruction anywhere else. Thankyou.
Sera, Artist