balance in life

dynamic fusion of martial arts, qigong and core energetics moves
for empowerment and well-being
Tao Spirit is the culmination of my 35 years of training and teaching internal martial arts and embodied meditation practices.
It is a powerful synthesis of four martial art styles as well as a selection of movement and energy development techniques from the systems of Tai chi, Qigong and body-based Psychotherapy. Tao Spirit is invigorating and loads of fun as we celebrate our soft and strong energies and welcome our true power.
I am looking forward to offering this work to all women who would like to build their focus, strength and aliveness, and enjoy life with more confidence and fuller self-expression.
Online Classes are coming soon.
Please register your interest here.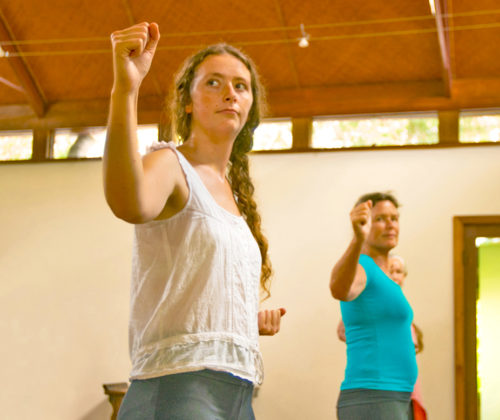 Student Testimonials
hover over the text to pause slider
Tom, PhD. Consultant
I have been a Tai Chi and Qigong student with Shirsha Marie for 14 years. Without hesitation I can assert that the particular forms and style of practice I have learned over this period have enabled me to successfully manage a chronic spinal injury. With my instructor's guidance I have been able to change my body alignment, develop skills of balance and coordination, and gain strength and power. Shirsha has refined skills and a deep understanding of martial arts and energy work in general. The overwhelmingly positive energy of this large and beautiful school is available for all students in their practice.
Tom, PhD. Consultant
Brinn, Manager
I have been practicing Tai Chi and Qigong for 1.5 years with Shirsha with great benefit to mind and body. Her teaching style transmits the finer points and internal aspects of these arts very well, while keeping a calm and respectful environment. For me Tai Chi and Qigong are a perfect continuation of my internal development, martial and body maintenance  practices.
Brinn, Manager
Alison, Teacher
After major back surgery 10 years ago I was afraid of exercise. I went to Qigong after hearing about an incredible qualified instructor. I was immediately comfortable with Shirsha's patient, professional and personal style of teaching. It has been so helpful to be able to take home what she has taught me, and to be able to relax and have the correct stance as I do an exercise. In my travels I have been to many other Qigong Instructors. This one is absolutely dedicated to her profession and her students, plus being gentle and caring.  I am 70 years old.
Alison, Teacher
Sera, Artist
The alignment and deep breathing practices of Qigong really improve my posture and support my health. I have suffered from chronic fatigue as well as very difficult emotional states, and I find that, no matter how bad I might feel before a class, afterwards I feel cleared energetically with a lovely centred healthy feeling. I've had about 6 different Taiji and Qigong Teachers in the past, and I find that this teacher has a refined blend of warmth, grace and professionalism which creates a strong sense of safety in the practice. I've never before been so encouraged to come into a full embodied presence and I don't imagine I would find better instruction anywhere else. Thankyou.
Sera, Artist
Deb, Organic Chef
I cannot recommend the Qigong taught at
Heart Mind Centre
highly enough. Each class is like a deeply healing massage and meditation. Deeply healing because the Qigong movements open up the channels for energy to flow throughout all areas of my body. And meditative because my mind becomes single focused on the exercises and the breathing. Although I have always enjoyed strong physical exercise I can feel that this is actually more powerful in its capacity to keep me fit and healthy.
Deb, Organic Chef
Chrissy Olsen, Author
Shirsha Marie is quite simply one of the best teachers I have ever had. I began studying Qigong with her 3 years ago. It has had a profound effect on my life, leading to a quieter, deeper equilibrium within me. I am looking forward to further years of study with her.
Chrissy Olsen, Author