Heart of Sangsurya Retreat
Relaxation, Health and Meditation
with Shirsha Marie, Lisa Brown and guest teachers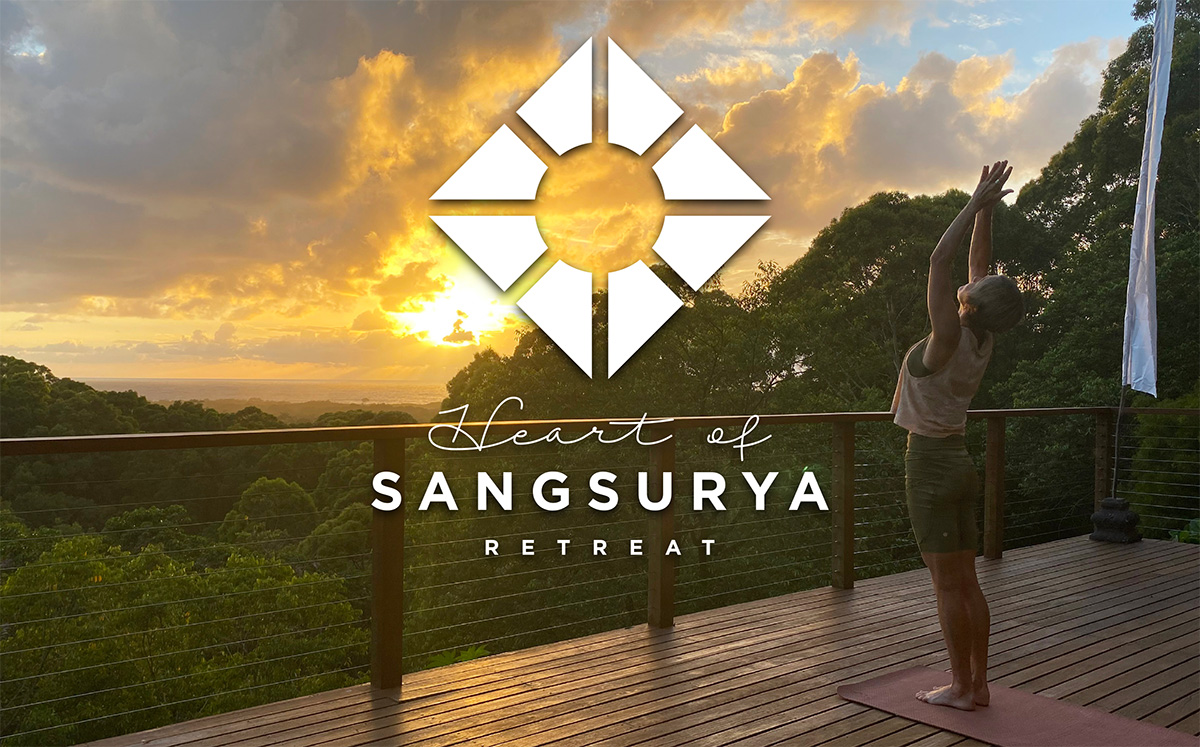 The Heart of Sangsurya Retreat is a deeply restorative retreat offering revitalisation through a range of traditional eastern health and meditation practices. It is a unique 5 night journey created to nurture, heal and transform, with world-class teachers, healing treatments, nourishing cuisine, nature walks and music for the soul.
Held in the beautiful natural environment of Sangsurya Retreat Centre, the Heart of Sangsurya Retreat provides a true break and release from the demands of a challenging world and the busyness of daily life. The programme is light and well-paced with plenty of time to rest and enjoy the peaceful ambience of Sangsurya.
The ancient art of Qigong offers increased energy, resilience and inner peace through gentle flowing movement, alignment, relaxation, deep breathing and meditation.
Restorative Yoga balances the mind, body and heart through cultivating wisdom, conscious movement, breathing practices, relaxation and self-reflection.
Meditation teaches us how to understand the heart and mind and cultivate the energy of compassion to create an alchemy of healing and transformation.
The Heart of Sangsurya Retreat gives time-out to regenerate the nervous system, replenish your energy reserves and be more present for a deep and fulfilling connection to life. Slow down and give yourself time and space to be nurtured. Reconnect with your natural life-force… a force that never goes away.
Heart of Sangsurya Retreats are set amidst the forested beauty and refreshing sea breezes of Sangsurya, a beautiful eco-friendly retreat in Byron Bay. Sangsurya is a spiritual place of meditation, reflection and rejuvenation. It is world renowned for its peaceful ambience and healing energy.
"Knowing how to breathe in universal energy and nourish ourselves is the great gift that Qigong has to offer. I am so happy to share this ancient wisdom with you, immersed in the beauty and healing power of nature".
Shirsha Marie
Shirsha Marie has created the Heart of Sangsurya Retreat as an opportunity to learn authentic methods of energy development and meditation with expert teachers. Her integrated approach provides an enjoyable experience of mindfulness both in movement and in rest, for living a peaceful and conscious life.
Sangsurya features a large Thai style timber training hall, an ozone swimming pool, relaxing dining and lounge areas, in-house healing treatments, a rainforest walking trail and an array of bird and wild life.
With its enchanting mix of eastern inspired architecture, hand-crafted mosaic art and lush sub-tropical gardens, Sangsurya has been a place of retreat and healing for many years.
Shirsha Marie has created the Heart of Sangsurya Retreat as a unique opportunity to learn authentic methods of energy development and meditation, for living a vital and conscious life. Her integrated approach provides true experience of mindfulness both in movement and in rest.
Replenishing energy reserves and finding stillness within are the central themes of each retreat. As the body relaxes and opens, energy flow increases and the mind quietens into a deeper state. You'll naturally reconnect with your source of vital life energy and inner wisdom.
"The Heart of Sangsurya Retreat delivered by Shirsha and Lisa provided everything I required to fill my cup! From the tools to restore harmony and the wonderful vegetarian food to the stunning environment overlooking the beautiful Pacific Ocean – PERFECT"
Marionne
Byron Bay - 5 night Retreat
The retreat price includes:
5 nights lovely accommodation

All farm-fresh vegetarian meals

A 1 hour massage or healing treatment

Daily Qigong, Yoga and Meditation

Guided relaxation and wellness talks

Evening sound healing and sacred music

Rainforest and beach walks
YOUR RETREAT, YOUR WAY
Each day there will be free time and some periods of silence for quiet rest and inner reflection. Please feel free to join in as much or as little of the retreat program as you wish, at whatever feels right for your relaxation and renewal.
MEALS
All meals at the retreat are lovingly prepared by our chefs using fresh spray free and organic ingredients, mainly sourced from the local area. Our abundant menu is vegan/vegetarian with delicious, healthy, unprocessed wholefoods. By the end of the retreat you'll be feeling clear, nourished and energised.
ACCOMMODATION
Accommodation is Balinese style, hand-built, timber-floored houses and cabins, exquisitely furnished, each with their own unique flavour. Rooms are nestled throughout sub-tropical gardens which surround the main hall, dining room and pool. All have air conditioning and fans.
Twin or Couple's Room + own bathroom – AUD $2375 p/p
Large Deluxe Room + shared bathroom (between 2 rooms) – AUD $2675 p/p
Small Single Room + own bathroom – AUD $2675 p/p
Large Deluxe Room + own bathroom – AUD $2875 p/p
NOT INCLUDED IN PRICE
Airfares, travel insurance, airport transfers and
any extra massages or spa treatments you book
RETREAT PROGRAM – a typical full day
Day 1: Arrive and settle into your accommodation from 2.00 pm and enjoy the relaxing ambience of Sangsurya. At 4.30 we meet up for a group welcome followed by soft Qigong loosening exercises to relax and unwind. We then gather for a delicious evening meal. After dinner there will be a reclining guided relaxation.
Days 2, 3, 4 & 5 are as follows:
| | |
| --- | --- |
| AM | PM |
| 7.00 am:        Morning Qigong in nature | 1.00 pm:        Nutritious Lunch |
| 8.30 am:        Healthy Breakfast | 2.00 pm:        Rest / Massage / Pool |
| 9.30 am:        Instruction in Meditation | 4.30 pm:        Afternoon Restorative Yoga |
| 11.00 am:      Walking Meditation | 6.30pm:         Delicious Dinner |
| 11.30 am:      Sitting Silent Meditation | 7.30 pm:        Wellness talk / Sound Healing / Music |
Day 6: we have our last morning programme followed by a closing circle. We then enjoy a delicious farewell lunch. Check out is 1.00pm.
EXTRA ACTIVITIES
One morning walk to Tallows Beach, through the Arakwal National Park walking trail. We practice Qigong with our feet in the sand, absorbing the restorative effects of Chi energy from the earth, sky and ocean.
---
Guided Zen Walk along the walking trail through Sangsurya's sub-tropical rainforest. We embody mindfulness with every step and absorb the energy of the forest.
MASSAGES AND TREATMENTS
You will receive one complimentary Massage or treatment with our fully qualified therapist. Extra treatments will be available on request.
ADDITIONAL NIGHTS
Additional nights either side of retreat can be booked depending on availability.
TRAVEL:
How to get to Sangsurya: If travelling by plane there are shuttle bus services direct to the Retreat Centre – from Ballina Airport (30 mins), from Coolangatta Airport (50 mins) and from Brisbane Airport (2 hours). More details are provided upon Registration or Contact Us with any questions.
Retreats at Sangsurya, Byron Bay
Student Testimonials
hover over the text to pause slider
Kaye, Retired primary teacher
Qigong with Shirsha these past few years has shown me a deep awareness of the connection between breath and body movement. I love her friendly and perceptive teaching style and feel my good health owes much to this practice.
Kaye, Retired primary teacher
Linda, Business Owner
Training Hapkido with Shirsha has changed my life. I feel stronger, more resilient both mentally and physically. I'm calmer and get less injuries than ever before. I have always lived with pain in my neck and back from a young age, caused by various injuries throughout my life, this has been reduced substantially since starting this form of martial arts. Warning: Once you experience the health benefits of this school, you WILL become addicted. Not to mention the students are a fantastic bunch of people."
Linda, Business Owner
Dawn, Retired Nurse
Qigong is absorbing. It enables me to develop stillness and calm in my body. I had suffered from poor posture and not feeling stable and connected through my body. I had tried other Qigong teachers but found that often the methods would oppose my body in a manner which was aggressive, forcing my body into the forms and positions. With Shirsha I have been helped to work with my own body and its particular needs with patience and acceptance; to improve my stance and posture and feel balanced; to become truly relaxed with my strength and comfortable in my own body. After the classes these benefits do not stop – I am able to tap into the source of my body's wisdom and take this skill into my daily life.
Dawn, Retired Nurse
Elisabeth, Art and Ancient History Teacher
Studying Tai Chi with Shirsha Marie these last six years has turned my health around from being a burnt out school teacher to feeling younger every year. It has cured a range of problems which were accumulating such as sore heels, lower back pain and damaged shoulders. The cartilage problems in my knees have not deteriorated and are no longer extremely painful. I can now enjoy many more years pursuing my career.
Elisabeth, Art and Ancient History Teacher
Robert, Retired Disability Support Worker
The mixed Qigong and Tai Chi class is a focal point of my week as a chance to reset energetically. The practice has enhanced my balance, attitude and posture. Annual health check revealed that I have recovered 6 mm in height. It has helped me reconnect with the quality of awareness that is found in meditation.
Robert, Retired Disability Support Worker
Chrissy Olsen, Author
Shirsha Marie is quite simply one of the best teachers I have ever had. I began studying Qigong with her 3 years ago. It has had a profound effect on my life, leading to a quieter, deeper equilibrium within me. I am looking forward to further years of study with her.
Chrissy Olsen, Author